IDEA: For any Salesforce Admin or developer, there is a requirement to mass export multiple Profiles in xls. It would be tedious job to copy and click each Profile one by one using Salesforce Standard process.
These type of work requests would take more effort and time, so one of the best option to overcome this situation is by using the this appexchange tool called Bulk Object Field Creator (BOFC)
Benefits of using BOFC Application for Export Profiles:
Multiple Profiles can be extracted in single click in single xls sheet (with each tab for each profile)
Supports both Standard and Custom Profiles
Export includes: Object access, App access, Tab access, User & Administrative permissions, record type details, apex class access, visual force page access
Easy, Simple, Clickable process to export profiles
Few Simple Steps to Export Multiple Profiles in Salesforce
1. Open the BOFC Home > Click "Export Multiple Profiles (Complete Details)"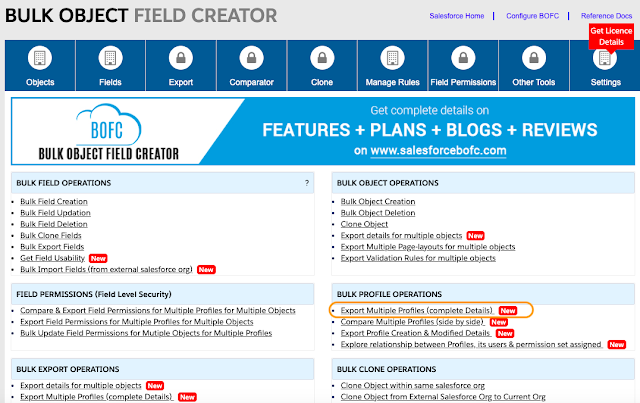 2. It will open below screen for BOFC "Export Multiple Profiles in Salesforce"
3. User can choose different actions on Export screen. This below image is highlighted with number and has its description as below:

Select single or multiple Profiles from the drop down
Select which profile components needs to be exported (for eg: Object details, Apex permissions, Record type settings, user permissions etc)
Select "if user wants to export components which are unmanaged or components related to managed packages and unmanaged (both)?
Select "if user wants to export or compare profiles"?
Click "Click to Initiate Export" button to export xls file for all the selected profiles with all the selected components. It will exports single xls (with multiple tabs, one tab for each profile) for all the selected profiles in Salesforce.
The Component list doesn't have object "Fields Permissions". To export or update Field permissions for Multiple objects and multiple profiles, use the "Click Here" link to open the field permissions page
4. On clicking the export buttons, it will display a small section on the page. This section show the status of your export for multiple profiles. Wait for couple of seconds, until status is changed to "Completed" in the export status table.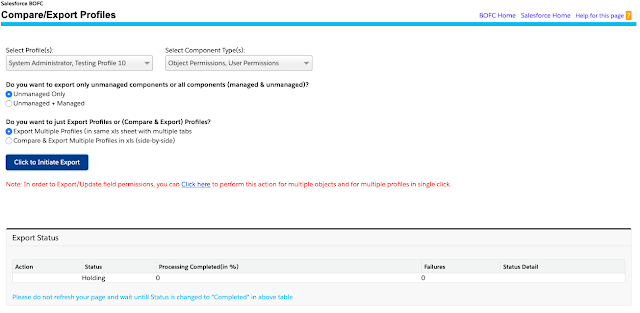 Status: Shows if process got completed or not
Processed: Shows no of profiles which are successfully processed
Failure: Shows no of profiles which got error out
5. Once status is "Completed", your file is ready for export. Click on "Download" link to download your profiles export in xls.
"Click Download Link": On clicking this link, it will download a xls file for all the selected profiles. Each profile is represented as a separate tab in xls. Each Tab will have complete detail of all the selected component types.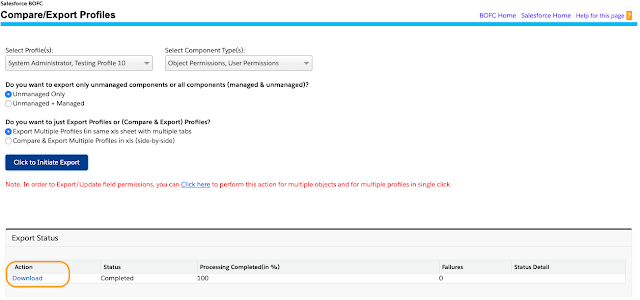 Have a look at step by step detailed video to "Export Multiple Profiles in Salesforce"
For any queries or suggestions, you can write your comment in the comment box or for further assistance contact us at https://www.bofc.io/#contact-frm or mail us: support@tech9logy.com. Our BOFC Expert will help you get the best out of it.
We appreciate your valuable inputs.