Requirement
For any Salesforce Admin or developer, if there is a requirement to update multiple field attributes like length, label, Description or Help Text (or any other attribute) for Standard or Custom Fields for Multiple Objects (Standard or Custom).
– For a developer, it would be tedious job to open and update each field one by one using Salesforce Standard process. These type of work requests would take much more effort and time.
To overcome this situation and save user precious time, there is an appexchange tool called Bulk Object Field Creator (BOFC).
Benefits of using BOFC Application for updating fields:
Supports both Standard and Custom fields to update
Supports both Standard and Custom Objects
User can update fields of multiple Objects in single click
User can update multiple fields of a multiple types in single click
User can update fields easily using XLS.
Easy, Simple, Clickable process to update fields.
Few Simple Steps to Bulk Field Updation in Salesforce
1. Open the BOFC Home > Click "Bulk Field Updation"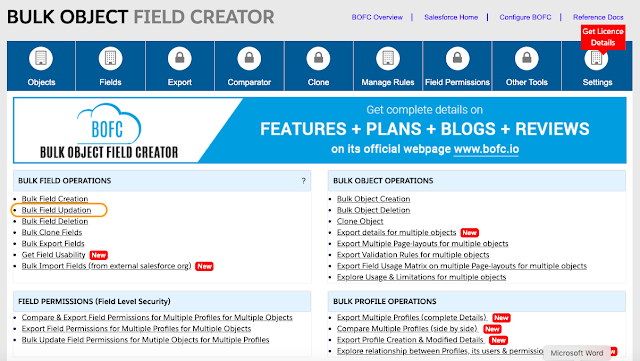 2. It will open below screen for BOFC Update Fields

3. Select multiple "objects" from drop down, and select type of fields to update and Click on "Download as xls"

Steps:
Select single or multiple objects
Select type of field to update
Select Method to Update
Click on Download as xls and wait for couple of seconds for process to complete (as shown in below image)

User can click on [Download] as per above screenshot to download all fields in XLS
Open excel and modify your field details and save file as xls or xlsx
Open your BOFC Update Field page and drag or select your excel file.
Refer step 4 for next steps.
4. Drag file on page and it displays all the fields in tabular format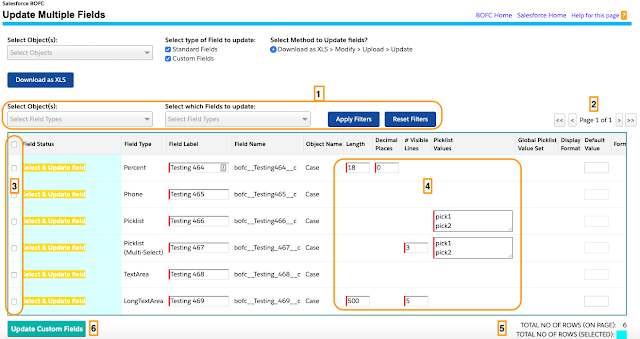 Above image has many features (each number has its description as below):
User can filter fields by object or field names
Pagination – This page has a pagination if count of fields is more than 80. Each page shows 80 fields. User can use ">" or "<" or "<<" or ">>" buttons to navigate on other pages
User can select fields by checking check-boxes in-front of each row
Each row columns are enabled or disabled depending upon field type. User can update the field attributes which are editable (scroll the tables and it will show more columns)
Total Field Count on page & Selected field count (for update)
Button "Update Fields" – On clicking this button, it will update all the selected fields for object.
5. Select the Fields which you want update by selecting checkbox in-front of each row.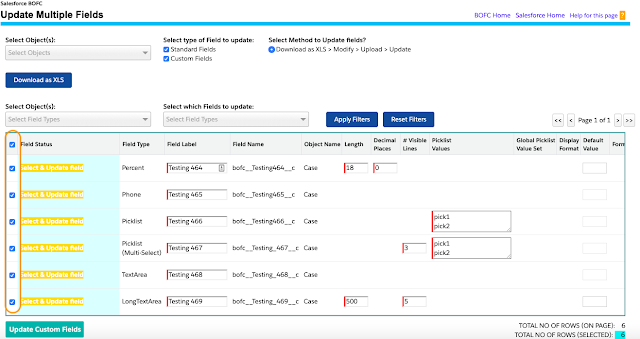 6. Once fields are selected, Click "Update Fields" button to Update fields for an object. Once the Update action is completed, it will show "Success or Error" status message in-front of each row.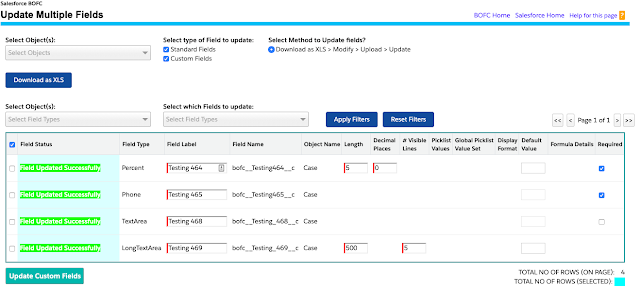 Have a look at step by step detailed video to "How to Update Bulk Fields in Salesforce Using BOFC?"
All the field attributes like (label, API name, description, help text, etc) can be updated for multiple fields for multiple Objects in few clicks
For any queries or suggestions, you can write your comment in the comment box or for further assistance contact us at https://www.bofc.io/#contact-frm or mail us: support@tech9logy.com. Our BOFC Expert will help you get the best out of it.
We appreciate your valuable inputs.