Requirement:
In case of migrating from one Salesforce org to another, it is required for an admin or developer to Clone Standard or Custom Object (with Object details, Custom fields, Validation rules, Record types) from same org or from any external non-linked Salesforce org.
Clone object in Salesforce is a tedious and time taking job. In case, if a developer has to clone an object with 400 fields, developer would have to open each and every field, validation rules, record types one by one for an object using manual process.
These type of work requests would take much more effort and time, but with our Salesforce App exchange Bulk Object Field Creator (BOFC) App user can clone multiple objects within "Same Salesforce org" or from any "External Salesforce org" in few clicks.
Benefits of using BOFC Application for Mass Object Cloning:
BOFC clones source object properties to new target object
It clone all Custom fields of Primitive field types (like text, number, currency, checkbox etc) to new/existing target object
It clone all custom fields of Relationship field types (like Lookup, Master-Child etc) to new/existing target object
It clone all custom fields of Formula types to new/existing target object
It clone Field Permissions of Source Object Fields if user is trying to clone from same org or user can assign new Field Permissions for target object for multiple profiles
User can clone any type of object (Custom or Standard Objects or managed object) using BOFC
Simple Point & Click UI only.
Few Simple Steps to Clone Object & its all Fields in Salesforce
1. Open the BOFC Home > Click "Clone Object"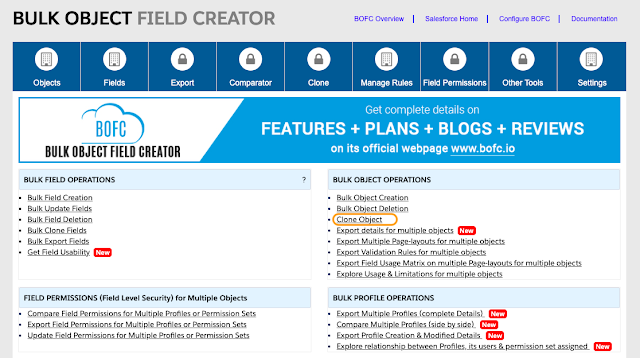 2. It will open below screen for BOFC Clone Object

User can clone the object from different type of source orgs:
Can clone from same org in which BOFC installed
Can clone from external org which are linked / non-linked to current org in which BOFC is installed
3. Select the "Source Org" from the where you want to clone the object & Enter the API name of the object.
4. Select the type of action for target object. Do you want to:
Create New Target Object
Use Existing Object as Target Object

5. Let's go with "Create New Target Object". Next, you need to select which type of fields we need to create?

User can choose single or multiple check boxes to select the type of fields to clone:
Clone All Custom Fields – Except Relationship & formula – This means custom fields fields which are of primitive types only like Number, Text, Picklist…etc
Clone All Relationship Fields – This means fields are of relationship types only like Master Detail, Lookup.
Clone All Formula Fields- This means fields are of formula or rollup summary types only.
6. Let's manage the field permissions for Target Object & its fields

Here user can select multiple profiles & can choose what type of field permission should be assigned to new fields (Read or Edit).
7. Finally we are ready with all the configuration and ready to initiate the process to clone.

8. Once this blue button is clicked, it will open a small section and have some instruction in it. Just follow the instructions and you are done.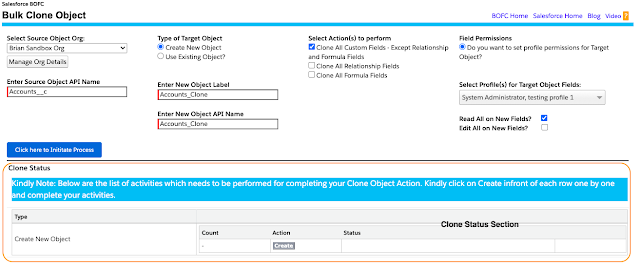 Click on Create in the Status Table to create new object. Please find below image with some pointers:
New Object Created Successfully
Click "View Object" to view newly created object
Click on create in the second row of the table one by one to create fields in the new object.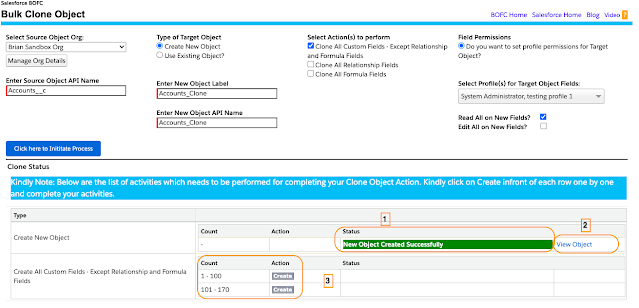 9. Click "Create" in front of each row one by one and wait for process to complete. Once all create are clicked, you are done with your object cloning with all the types of fields.
10. Final Status in Green shows your fields are cloned in the new object.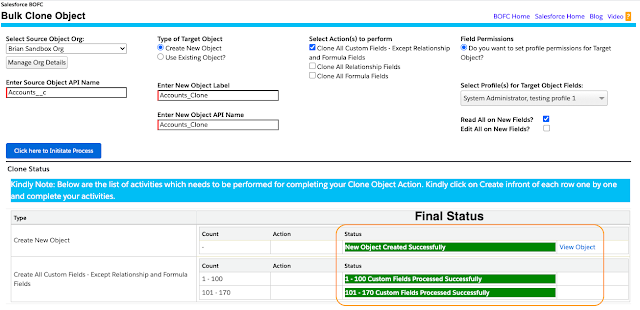 In case if any of your field is error out or not clone because of any reason, so you can track those fields using the Source Field Error Status field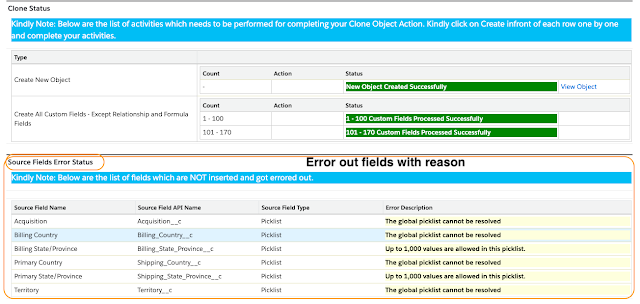 For any queries or suggestions, you can write your comment in the comment box or for further assistance contact us at https://www.bofc.io/#contact-frm or mail us: support@tech9logy.com. Our BOFC Expert will help you get the best out of it.
We appreciate your valuable inputs.
Have a look at step by step detailed video to "Clone Standard or Custom Object in salesforce in few clicks"